What are Dental Implants?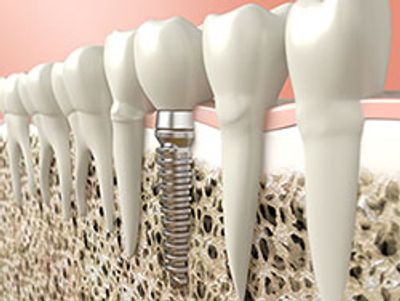 Dental Implants are artificial teeth that are fixed into the bone structure surrounding your mouth. Given their nature, they make for a sturdy and permanent solution to tooth loss. If you have suffered from tooth loss, an implant is an effective way to recover as they feel like real teeth. This is due to a few reasons:
The roots are composed of titanium, which biologically bonds with bone (a process known as osseointegration).
The implant is composed of a crown, which can be specifically tailored in the lab to mimic a natural tooth.
Implants are rooted in your bone so they feel sturdy. In the image above, you can see how the titanium implant and crown essentially replicates the structure and function of a natural tooth.
Are Dental Implants right for you?
The benefits of Dental Implants are numerous:
Your facial structure and appearance will instantly improve as adding teeth back to your mouth will restore the integrity of your bone structure. Sustained tooth loss causes bone loss. An implant will put an end to this problem. If you prefer to wear dentures, an implant can support your dentures and snap them into place. The floating nature of dentures can affect speech, diet, digestion and overall health. A simple implant without a crown can correct all these issues. 
Implants offer a return to normal living. Dentures require a lifestyle change (constant care, adhesives, removal at night, problematic when eating certain foods, etc). Dental Implants have the potential to last an entire lifetime with proper care.
Dental Implants will have a direct and positive impact on your self-esteem.
Am I a candidate for Dental Implants?
In general, there must be enough bone density to hold an implant. Your gums must also be healthy. Also, you must be committed to practicing good oral care (daily brushing and flossing) as well as planning for regular visits to the dentist. The reason for this is bacteria buildup. While implants are not natural teeth, a film of bacteria can still build up around them, which can in turn affect your gums and underlying bone. If the bone is affected, the implant will also be affected. Good daily care and frequent visits to the dentist hygienist will ensure that your implants remain strong and healthy.
Find out if this option is right for you, contact us for a FREE consultation