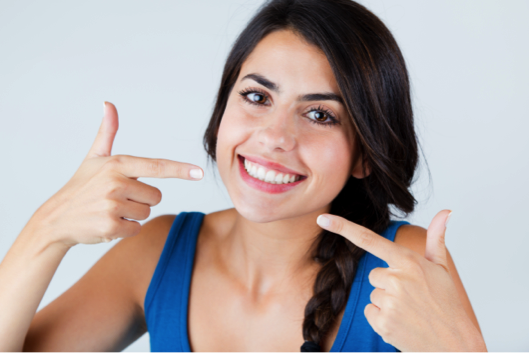 21 Dec

Give your teeth a White Christmas

It's the most wonderful time of the year!

Yes, Christmas season is here. With it comes family gatherings, office parties and Yankee swap gift-giving sessions with your friends. With all of those parties, you're looking at the chance to overindulge and, while avoiding certain foods can be good for your overall health, what's often lost is how to keep your smile white and bright.

Here's how a few holiday favourites can affect your oral health:

Coffee & Tea:

As you make your rounds, there's plenty of opportunity to indulge in a few sweets as you drop off gifts and cards to friends and business associates alike. But what goes hand-in-hand with your favourite treats? A hot cup of joe or a relaxing tea. Those beverages have an impact on your enamel and can cause staining. If you're intake is increasing during the holiday season, be sure to add additional brushing or rinsing to your schedule as well.

Wine:

For many people, the work Christmas parties and fancy dinners are synonymous with a nice glass of wine. Red white especially can wreak havoc on a beautiful smile during and after consumption. With its acidic nature and the presence of tannins, you're exposing your teeth to easy staining. One tip you can use, since red wine is known for staining plaque, is to brush your teeth before and after dinner. This will go a long way to keeping you smiling long after your you've made your way home from a great night out. If brushing isn't an option before dinner, pair your glass with sparkling water or with cheese.

Sauces:

'Oh come on," is what you're probably saying at this point. But, whether sitting down for a sushi dinner and enjoying some soy sauce or relaxing at a beautiful Italian restaurant and taking in a delicious plate of Penne Pomodoro, the sauces incorporated in those meals are highly acidic. Acidic foods can accelerate the breaking down of enamel and make your pearly whites susceptible to staining and decay.

There's no reason for you not to indulge a little during the holiday season. It's a time to be merry and enjoy the people in your life. That being said, doing so without protecting your teeth is detrimental for long term oral health. Incorporating additional cleaning habits to your regular routine will help you keep your teeth healthy long after the holiday hangover has lifted.

At Islington Bloor Dentist, we do our best to keep your teeth healthy (and helping you have a white Christmas every time you flash a smile at your loved ones this holiday season).